"The dripak 'A' system from Andrew Engineering is the compact packaged low energy, low maintenance answer to swimming pool air heating, dehumidification and ventilation."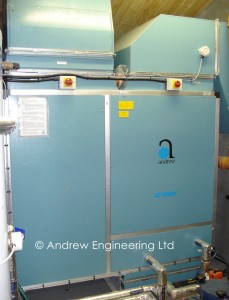 The dripak 'A' system does not use refrigerants. The unit heats pool air by recirculation over a heating coil up to a preset temperature, automatically switching to dehumidify the pool area by using dry fresh air preheated from a high efficiency pool extract air heat exchanger.
The dripak 'A' system can provide valuable high rate summer ventilation cooling, considered useful for highly glazed buildings. dripak 'A' system brings in only the required amount of fresh air to control the pool hall conditions. dripak 'A' system achieves swimming pool dehumidification with low energy use by operating in recirculated air mode before admitting fresh air. Heat required to raise the air temperature is minimised by transferring heat from warm extract air leaving the building into outside fresh air.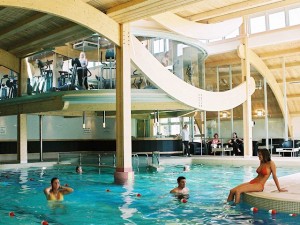 A simple passive plate heat exchanger achieves high efficiency heat transfer without either airstream mixing. Direct drive fans give a consistent airflow using less energy than belt & pulley driven fans. All of the fans are inverter controlled for maximum energy efficiency.
dripak 'A' system achieves low life cycle and maintenance costs due to its simple low energy design. Each unit includes a control panel, internal heating pipework and electrical wiring. Constructed throughout in corrosion resisting materials with removable double skinned insulated plastic coated steel panels.
System Features:
Dripak pool dehumidifier energy saving features include inverter controlled direct drive variable speed fans, integral pool air temperature & humidity control, motorised heating valve, air dampers. Fresh air and return air filters.
Options available for night set back, energy saving reduced temperature and fan speed for 'out of hours' use.
Dripak pool dehumidifier units can be configured for horizontal left or right air flow, or vertical down flow.
Other bespoke options are available on request
Weatherproofing for external locations
Electric heating
Colour coordinated to match client requirements
Colour coordinated pool hall ductwork
Pool hall fabric ductwork